12 Biggest Hydration Myths Busted: Know The Facts Here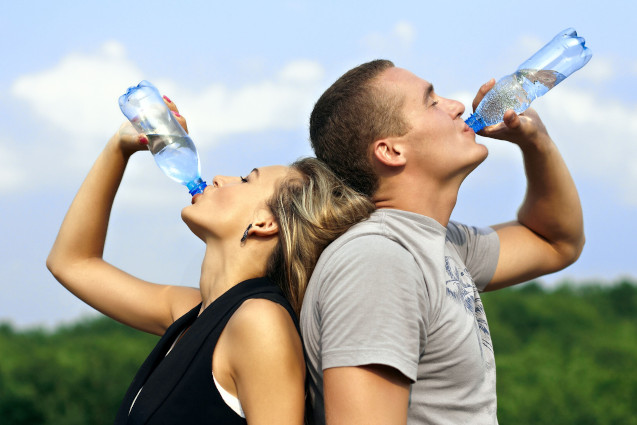 Like plants, humans cannot go very long without water. It is essential to keep your body functional and healthy. This is why it's important to ensure that your body is properly hydrated all the time. However, there are a lot of misconceptions about drinking water that may harm you. You probably got a recommendation to drink 8 glasses of water a day to ensure hydration. Or maybe you think drinking Gatorade does a better job in meeting your hydration needs while exercising. None of these are necessarily true or beneficial for your body. To help you stay hydrated and healthy, we've listed the 12 biggest myths about drinking water and the truth behind them.
1. You have to drink 8 glasses of water a day
This is probably the biggest hydration myth. Nobody knows where this recommendation originated. However, recent studies have shown that drinking 8 glasses of water can be too much or too little for an individual. You have to consider your size, diet, activity level, body chemistry, and the climate where you live. If you are larger or you sweat a lot, you may need more water.
Generally, those who burn 2,000 calories a day need about two liters of fluid, while those who burn 3,000 calories a day may need about three liters. One must also take note that this counts all the fluid you intake, not just water.
It's recommended to consult your physician for their expert opinion.
2. Bottled water is healthier than tap water
Advertisements have led most to believe that bottled water is a healthier option compared to tap water. This can only be true if you live in an unsanitary location, or you don't know the source of the water. Otherwise, bottled water isn't a better idea.
Bottled water can also be dangerous as they can contain impurities like harmful bacteria and pollution. Plus, you are also not sure about the source of this water.
A better solution is to install a purifier in your home for an affordable, cleaner, and environment-friendly option. A good water purifier can remove dissolved impurities and microorganisms.
3. It's okay to drink excess water
Too much of a good thing becomes bad for you. That applies to drinking water as well. Too much H2O can cause hyponatremia which may lead to convulsions, confusion, and even death. People with heart conditions like high blood pressure must also avoid excess water.
4. Being thirsty means you're dehydrated
You're not necessarily dehydrated when you feel thirsty. Your kidneys control the water balance in your body. When it senses that you need water replacement, it signals your brain to drink more water, which is what's making you thirsty. If you're always thirsty, there might be other health reasons that you should be checking.
5. You need a full glass of water right when you wake up
Some people think that sleeping for eight hours can dehydrate you, which is why drinking a glass of water by the time you wake up is necessary. That's false. If your kidneys are functioning well, a glass of water in the morning is not vital, although it can be refreshing for you.
6. You only need to drink water when working out
Some believe that they only need to drink water when they're exercising because that's the only time they sweat. Otherwise, drinking diet soda is enough when you're not working out. Unfortunately, not choosing water as your go-to beverage means you're not getting agua-induced nutrition that is important to your body. So even when you're not exercising, choose to drink water instead of flavored drinks.
7. Sports water is better than plain water
You may think electrolyte sports drinks like Gatorade is the best drink after exercising. Unfortunately, they are not the healthiest option because of the unhealthy ingredients they contain. They are usually high in sugar which may risk type 2 diabetes. Some of them also have hydrogenated oils that can be harmful to the thyroid. If you just have a light activity, sports drinks are not needed.
8. Coconut is a better recovery drink
Coconut water is popular when it comes to replenishing an individual after a tough workout. However, it's not for everybody as it may cause high potassium levels to those with kidney disease. Besides, drinking plain water is enough to prevent dehydration.
9. Coffee causes dehydration
No, you don't have to skip your morning coffee to prevent dehydration. Large doses of pure caffeine may dehydrate an individual, but the water in your coffee or tea makes up for its dehydrating effects. If you're a casual coffee or tea drinker, then these beverages cannot dehydrate you.
10. Yellow urine means you're dehydrated
Passing dark yellow colored urine is a sign of dehydration, but not all yellow urine means danger. Your kidneys are responsible for filtering wastes from your body. To control the volume and concentration of your urine, they reabsorb water and other substances from the blood. Dehydration may cause urine to be more concentrated which gives off a dark yellow color.
The ideal urine color is light yellow. If you're taking multivitamin tablets or antibiotics, your urine may be darker than usual.
11. Drinking water can keep your skin hydrated
Before, people thought that drinking water could help moisturize your skin. However, the amount of water you drink doesn't have a huge effect on your skin. If you're not extremely dehydrated, large amounts of water won't affect your dry skin. The moisture level of your skin is determined by skin cleansing, oil glands, and the environment.
12. You won't get dehydrated during winter
Dry eyes, skin irritation and chapped lips are common during winter. That's because it's easy to get dehydrated during this season as humidifiers and room heaters can lower the humidity in your home. This may result in the loss of humidity in your skin and breath and lead to dehydration. So whether you're staying at home or enjoying the winter scenery outside, make sure that you drink enough water.