12 Foods That Help Keep You Hydrated (#9 is WOW)
The old 8X8 rule recommends drinking eight, eight-ounce glasses of water a day to ensure you're properly hydrated. Yet if you've ever tried drinking that much water every day, you likely know how challenging it can be, but here's the good news. You don't have to drink all that water.
According to the Institute of Medicine, roughly 20% of your recommended daily water intake comes from food. So while drinking plenty of water is always important (especially in the summer), you can also "eat your water" with these great hydrating foods.
Special Note: If you're taking statin drugs to control high blood pressure, or if you're struggling with high cholesterol, I urge you to pay special attention to two of the foods because they can really help you.
Water Content: 97%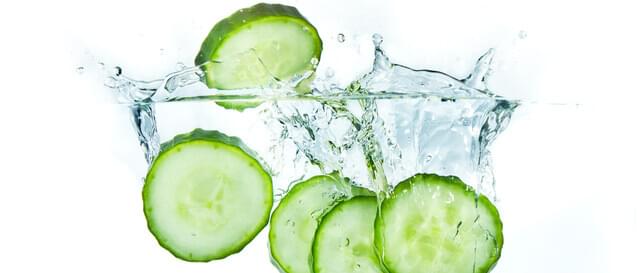 Cucumbers hold top spot as the solid food with the highest water content. And at and 11% Daily Value of Vitamin K in a 1/2-cup serving, cucumber offers a range of health benefits, from maintaining bone health and warding off heart disease to reducing the risk of arterial calcification, type 2 diabetes, and cancer. But all you really need to know is that cucumber is perfect as a light, refreshing snack either on its own or as an addition to salad. Or take them up a notch by topping cucumber slices with hummus or herbed cream cheese.
Water Content: 96%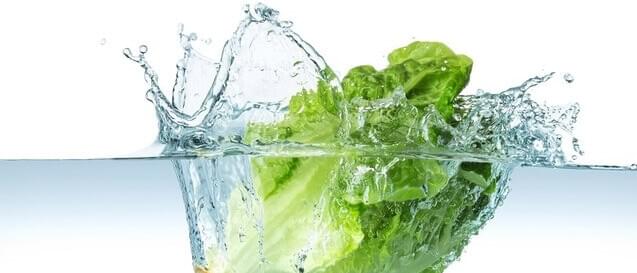 Iceberg lettuce may not have the same nutrient levels as the darker, leafier greens like kale, arugula, and spinach, but 100 grams of iceberg lettuce contains 95.6 grams of water (the highest of any lettuce), as well as 141mg of Potassium and 18mg of Calcium. And few lettuces compare to the sheer delicious crunch factor of Iceberg lettuce.
So pile some iceberg lettuce onto a sandwich the next time the temperature rises, or toss some water-rich iceberg lettuce into a mixed-greens salads.
Water Content: 95%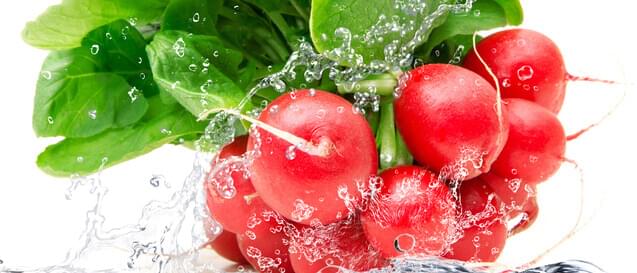 Colorful and tasty, radishes offer a refreshing burst of spicy flavor to any salad as a root vegetable rich in fiber, Potassium, Vitamin C, Vitamin B6 and Magnesium. Or eat them on their own with a bit of mineral-rich sea salt. Studies show that summer perspiration depletes sodium levels in most people, and sodium is an important electrolyte. So radishes dashed with salt are a simple and delicious way to stay hydrated and keep your electrolytes balanced.
Water Content: 94.5%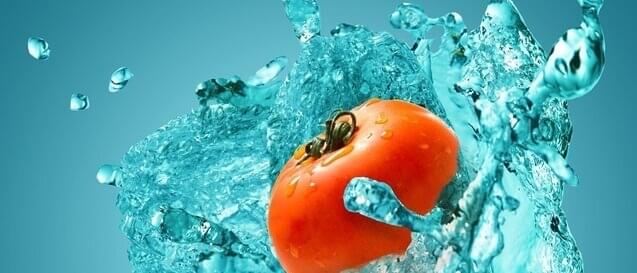 People tend to think of tomatoes as a large fruit (yes, they're fruit). Yet tomatoes come in a wide range of sizes, from the big beefsteak tomatoes to the smaller cherry and grape tomatoes, and they're all great hydrating snacks. So mix it up. Instead of the same old side dish with a sandwich, add a handful of Yellow Pear or Black Pearl cherry tomatoes. Or skewer cherry tomato halves onto toothpicks with other summer fruits like peaches and strawberries. The possibilities are endless. :)
Water Content: 94%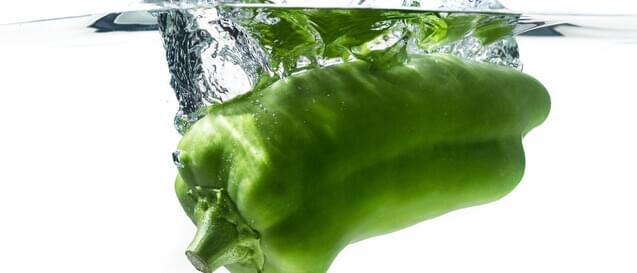 While bell peppers of any color have a high water content, green peppers have the highest, beating out red and yellow peppers by roughly 2%. Crunch and tasty by themselves or as an addition to any vegetable platter, green peppers are an excellent source of Vitamin A (in the form of carotenoids), Potassium, Vitamin C, Vitamin B6 and dietary fiber.
Water Content: 92%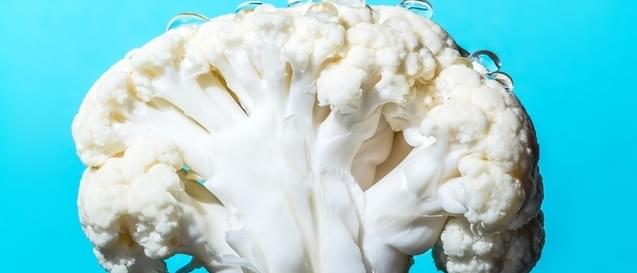 Cauliflower offers more than water wrapped within a light, crunchy taste. A 1-cup serving contains 77% Daily Value for Vitamin C, 9% Potassium (a key nutrient for heart health) and 14% Folate (a B vitamin also important for heart health). In addition to all that, cauliflower has been shown to help lower blood pressure.
Studies published in the American Journal of Hypertension show that cauliflower helps lower blood pressure from a natural plant chemical called sulforaphane (sul-for-aphane). Scientists believe sulforaphane helps improve blood pressure by normalizing DNA methylation.
Water Content: 92%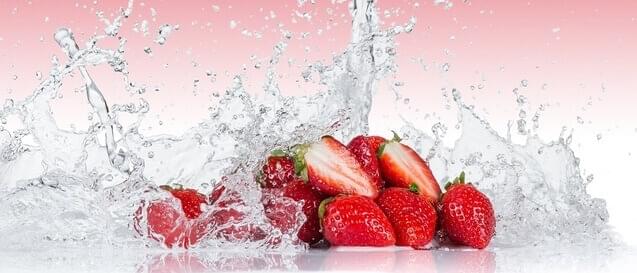 Any way you slice them, fresh strawberries are exquisite-tasting, and if you've ever driven to a u-pick farm to eat strawberries right off the stem, the taste definitely lands in the "sinfully divine" category. Yet strawberries are more than an iconic fruit representing decadence and pleasure.
Strawberries are a top food source for antioxidant polyphenols, which have been shown to help reduce postprandial hyperglycemia and improve insulin sensitivity in obese and overweight subjects. Additionally, a 1-cup serving of fresh strawberries contains a whopping 149% Daily Value for Vitamin C.
Water Content: 91.5%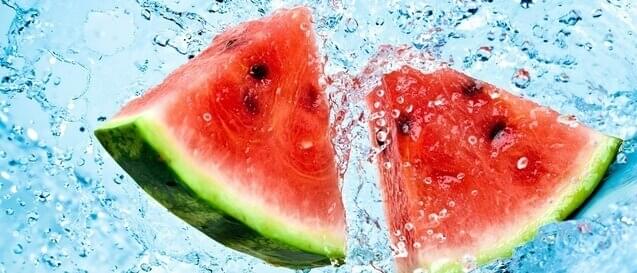 Bite into a wedge of watermelon and its water content becomes instantly obvious. Yet in addition to being a sweet hydrating snack, watermelon helps maintain a healthy blood pressure because watermelon contains citrulline. As an amino acid that your body converts to nitrous oxide, citrulline helps relax veins and arteries so your heart doesn't have to work so hard to pump blood.
For an easy frozen dessert, cut watermelon into slices, trim off the rind, insert each slice with a clean Popsicle stick and freeze them for a sensational summer treat.
Water Content: 90.5%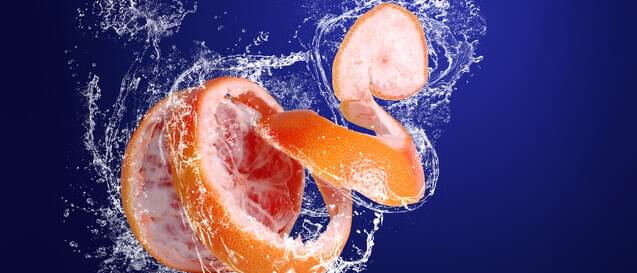 Fresh grapefruit with breakfast isn't just a tangy way to hydrate while enjoying a healthy dose of Vitamin A and Vitamin C. Adding grapefruit to your daily diet helps lower your risk of heart attack and stroke caused by high blood cholesterol.
In published studies, 57 men and women with high blood cholesterol were given either white grapefruit, red grapefruit or no grapefruit in tandem with a healthy, balanced diet for 30 days. (Prior to the study, all participants had been taking statin drugs to try and control their cholesterol levels but the drugs hadn't worked.) At the end of 30 days, those who didn't eat grapefruit saw no changes in their cholesterol levels. Those who ate white grapefruit saw a significant reduction in cholesterol, and those who ate red grapefruit saw even better reductions.
Water Content: 90.5%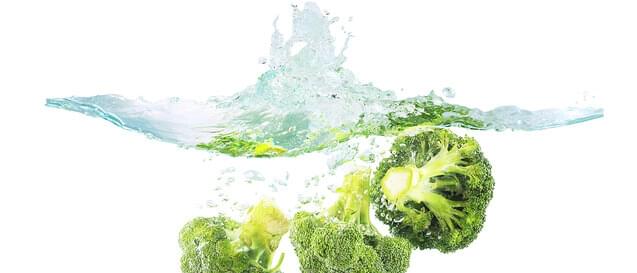 While broccoli doesn't contain as much water as its cauliflower cousin, broccoli also contains the natural plant chemical sulforaphane, which has been shown to help maintain a healthy blood pressure. In addition to this, broccoli contains 135% Daily Value of Vitamin C and 116% of Vitamin K, which helps maintain bone health and prevents against heart disease, type 2 diabetes and cancer.
Water Content: 90%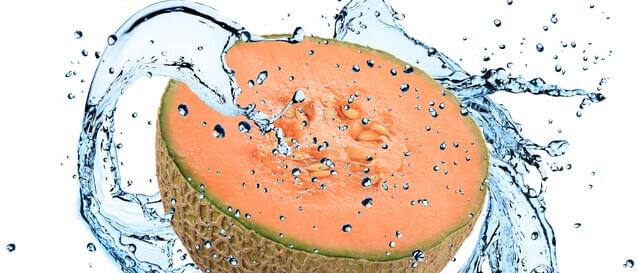 Succulent and sweet, cantaloupe delivers big nutritional value with few calories. At roughly 60 calories per 1-cup serving, cantaloupe packs 120% Daily Value of Vitamin A, 108% of Vitamin C, and 14% Potassium.
If you're new to cantaloupe, don't let its rough exterior fool you. Cantaloupe tastes juicy and sweet. Just bite into a slice to see for yourself, or try cantaloupe mixed with natural yogurt. For a tantalizing summer refresher, toss some cantaloupe into a blender with some vanilla yogurt, orange juice and crushed ice for a sensational smoothie.
Water Content: 87%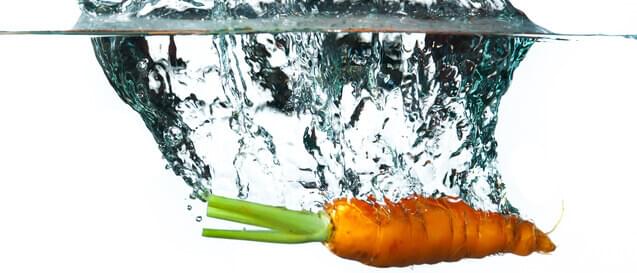 As ready-to-eat convenience snacks that are hard to beat for taste, portability and crunch appeal, carrots come packed with Vitamin A, antioxidants and dietary fiber.
Near-ready to eat right out of the bag, carrots also make a tasty addition to any vegetable platter or mixed salad. For added zest, try carrot slices with a garden veggie dip, hummus, or guacamole.