13 Factors That Can Affect Your Blood Pressure Reading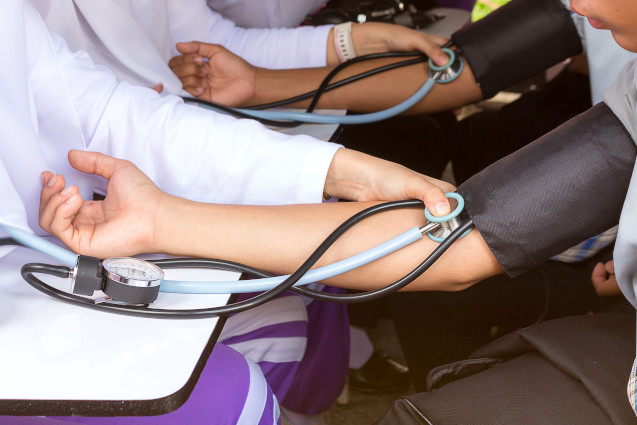 Is your blood pressure reading suddenly way too high or too low? Other factors, aside from your health condition, may be affecting it. What you may not realize is that your blood pressure is always changing every minute as it responds to your activity, body position, mood, meals, etc. These simple things can cause fluctuations in your blood pressure between 5 to 40mmHg.
Getting the most accurate blood pressure reading is important to have a clearer picture of your health. It helps you control your blood pressure and prevent risks of serious diseases like heart disease and stroke.
To help you ensure that you're getting the right results, we've listed the 13 factors that may influence your blood pressure tests.
1. Your previous meal
Had a huge dinner the night before your consultation? The salty meals that you ate may lead to an elevated reading. To ensure that you're getting the right results, be mindful of what you eat the day before the test. Opt for a healthy and balanced diet with a lot of fruits, veggies, and whole grains.
If you're doing a blood pressure reading at home, do it in the morning before your breakfast. The digestion of food may also lower your blood pressure. If you must eat first, wait for at least 30 minutes before taking the measurement.
2. Fluid intake
The amount of fluids you intake can also affect your blood pressure readings. If you are dehydrated, it can cause your blood pressure to go lower. Learn more about drinking water here to keep yourself healthy.
3. Alcohol and tobacco
Smoking can automatically elevate your blood pressure because it causes spasms of the arteries, while alcohol consumption can raise your blood pressure levels. To get an accurate reading, do not smoke or drink alcohol at least 30 minutes before you take the measurement.
4. Exercise
Exercise is good for your health. However, immediately taking a blood pressure test after working out can give you an elevated reading. After exercising, relax for 30 minutes first before taking your measurement to get proper results.
5. Traveling
Your commute to the doctor can also influence your blood pressure reading. If you got stressed because you were stuck in heavy traffic on your way to your consultation, your blood pressure can be higher. So before taking the measurement, relax for 10 to 30 minutes to bring your blood pressure to a more normal level.
6. Clothing
Remember to place the cuff on your bare skin when having your blood pressure measured. Putting the cuff over clothing can affect your systolic blood pressure from 10 to 50 mmHg.
7. Nervousness
Anxiety can cause a huge increase in your blood pressure. So, don't think about stressful things while taking the exam. There is also something called white coat syndrome, wherein the patient gets a higher blood pressure reading when the test is done in a doctor's office. You may ask your doctor about it before taking the measurement.
8. Not resting
It's important to relax for a bit before having your blood pressure reading. Rest quietly in a comfortable chair for at least five minutes before taking a reading. This ensures that your previous activity will not affect your systolic blood pressure measurement.
9. Full Bladder
Having a full bladder can also give you an elevated reading. Before you take the measurement, make sure to empty it. A full bladder can increase your systolic blood pressure measurement by 10 to 15 mmHg.
10. Talking
Don't worry about small talks with your nurse or doctor while taking your blood pressure reading. Studies have shown that your systolic blood pressure may increase by 10 to 15 mmHg if you're talking during the test.
11. The way you sit
Your sitting position can affect your blood pressure as well. You must sit on a comfortable chair with your back supported and your feet lying flat on the ground. Do not cross your legs, and make sure your arms are supported as well. Getting your measurement while standing or when your feet are dangling can cause an elevated reading.
12. Your arm position
When taking the test, your arms should be totally relaxed. Your blood pressure cuff must be level with your heart, and your arm must be positioned on an armrest or counter. If your arm is too low or too high, your blood pressure reading may not be accurate.
13. The blood pressure cuff
You must also use the right blood pressure cuff when taking a reading. Using a smaller one can raise your blood pressure by 10 to 40 mmHg. Make sure that you are comfortable with the cuff you're using to ensure accurate measurement.