5 Easy Superfoods to Include in Your Daily Routine!
You've likely heard the term "superfood" and how they're great for your health. Yet you may have wondered what "superfood" really means.
The term "superfood" describes foods that are richer than most in vitamins, minerals, healthy fats and phytochemicals. So they offer greater health benefits than most foods, both in immediate benefits and long-term health.
While there are many reasons why you should include superfoods in your daily diet, here are five of the most important:
Superfoods help protect your body against the damage of free radicals, which can damage cells, proteins and DNA by altering their chemical structure.
Superfoods help prevent cancer, control type 2 diabetes, support a healthy immune system, promote heart health and help control a healthy weight.
When combined with a good multivitamin, superfoods help you meet daily dietary recommendations for essential vitamins and minerals.
Many superfoods have a low glycemic index (GI), a number associated with how long it takes a food to increase your blood-sugar levels. Low GI foods help decrease cravings for sweets and make you feel full for longer after a meal. As well, low GI foods help prevent insulin resistance, which precedes the development of type 2 diabetes.
The high fibre content of many superfoods helps lower cholesterol levels and fights constipation by promoting regularity.
To get all these benefits working for you today, here are five easy superfoods to include in your daily diet: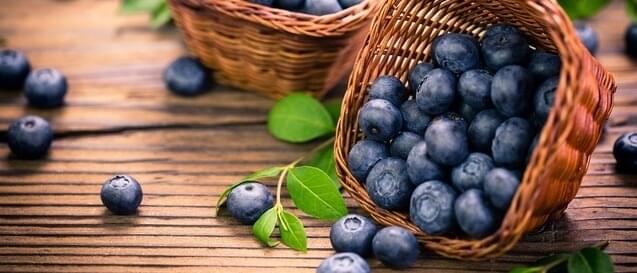 Blueberries protect against free-radical damage as a potent source of antioxidants called anthocyanin, a flavonoid that gives blueberries their appealing blue-purple color. Blueberries are also high in Vitamin C, which boosts immune-system health and promotes healthy skin by supporting collagen production. Plus, blueberries help maintain bone health thanks to rich amounts of Iron, Phosphorous, Calcium and Magnesium.
Tip: Wild blueberries offer more antioxidant value per serving. Since they're smaller, you consume more anthocyanin by consuming more blueberry skin.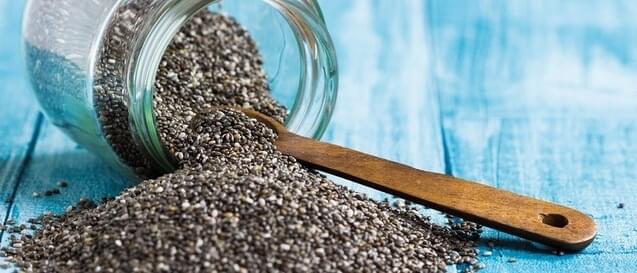 Harvested from a species of flowering plant native to Mexico and Guatemala, chia seeds help promote cardiovascular health as a rich source of Omega-3 fatty acids that help increase levels of HDL cholesterol (a.k.a. "good cholesterol"). Each serving of chia seeds is packed with Magnesium, Iron, Calcium, and Potassium. Plus, a 28-gram serving contains 5.6 grams of protein. Chia seeds are popular among vegans since they are a great substitute for eggs when mixed with water.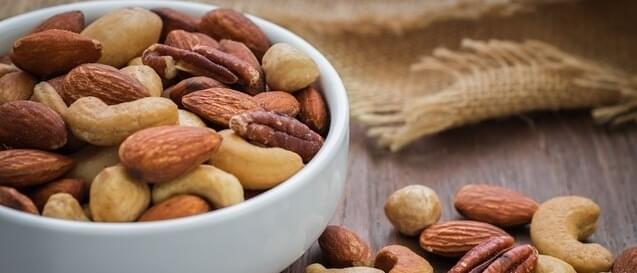 Almonds, walnuts and cashews are a great dietary addition to protect against heart disease and diabetes. Loaded with vitamins and minerals (especially Iron, Magnesium and Calcium), nuts also provide high amounts of fibre and Omega-3 fatty acids that help lower cholesterol and maintain stable blood-sugar levels. According to research by the Harvard School of Public Health, by increasing your nut consumption and decreasing your consumption of red meats, you may reduce your risk of diabetes by up to 35%.
Tip: Choose raw unsalted nuts to get greater benefits.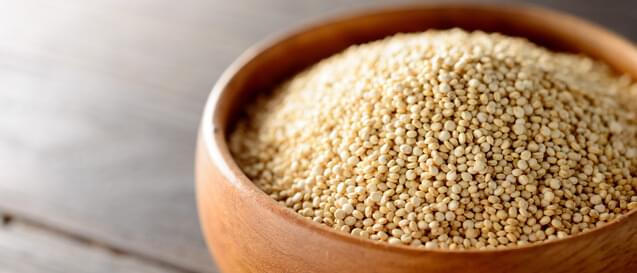 As a small seed native to South America, quinoa is very high in fibre, which makes it the perfect substitute for white rice or pasta since it won't spike your blood-sugar levels as fast as refined grains will. Quinoa is also very easy to digest because it's gluten-free. This little seed is also considered a complete protein, meaning it contains all the essential amino acids that you need to obtain from your diet.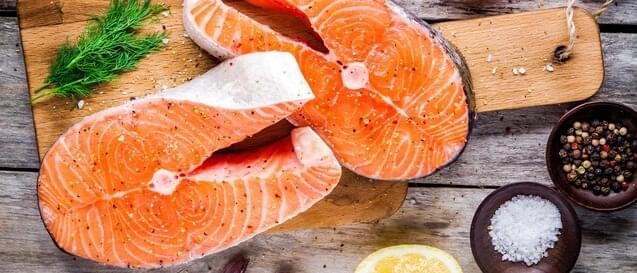 Salmon helps lower blood pressure as a rich source of Omega-3s, which slow the buildup of arterial plaque and help reduce levels of triglycerides, which store food as fat. Salmon also contains important B vitamins and is low in saturated fat. According to research by the University of California, an Omega-3 fatty acid found in salmon may also prevent late onset of Alzheimer's disease.
Other superfoods include:
açaí berries
apples
avocados
beans
broccoli
carrots
garlic
kale
kiwifruit
mackerel
olive oil
pomegranate
sardines
seeds
squash
sweet potatoes
raspberries
When it comes to restocking your cupboards with superfoods, try to buy whole and organic foods as much as possible in order to get the best nutritional benefits. You can also take advantage of your local farmer's market, where you'll find fresh and delicious produce.
What a perfect way to be healthy and support local farming!
Wishing you good health through wise nutrition.