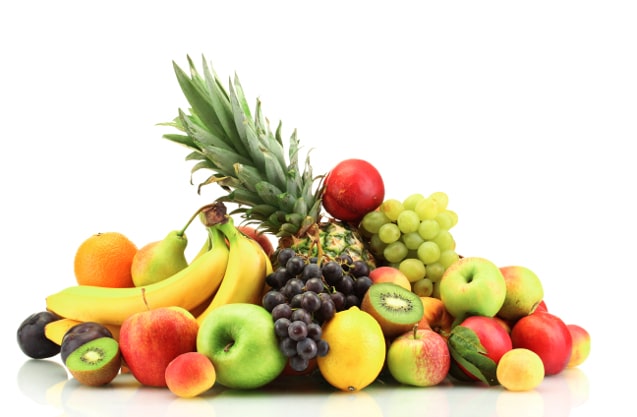 8 Common Fruits to Include in Your Diabetes-Friendly Diet
Fruits are not only rich in vitamins, they are also very delicious! So if you're diabetic and are forbidden to eat fruits, don't fret. What you are about to discover are the 8 fruits that are low in carbohydrates, low-GI, and yes, good for your diabetes diet regimen!
If you are on the hunt for diabetes-friendly sweet treats that do not spike your blood sugar, just go check your fridge or the fruit basket in your kitchen. You won't believe how these common fruits actually go along well with your everyday diet and keep your blood sugar at bay.
Many believe that when you need to watch your A1C, you must avoid eating fruits. But believe or not, this diabetes myth has long been debunked many times by scientific research. Did you know that many fruits contain large amounts of vitamins, minerals and fiber that lower your risk of having type 2 diabetes. This is supported by the American Diabetes Association (ADA) and the Harvard T.H. Chan School of Public health.
Found in fruits, vegetables and whole grains, fiber has a positive impact to your overall health by promoting the feeling of fullness which incidentally curbs your cravings and stops you from overeating. And it's true – maintaining a healthy weight helps you manage diabetes by increasing your insulin sensitivity.
The thing to remember is this: stay away from fruit juices. But understand that eating whole fruits is actually good for you. Berries, apricots, citrus fruits and apples are great for your overall health. These common fruits are good in fighting inflammation, managing blood pressure, and yes, good for your A1C among others.
But don't get overexcited. As with any diet regimens, it is a must to always watch your carbs and track what you eat. Portioning is the key.
To avoid spiking your blood sugar and eventually risking your life, stay away from processed and canned fruits and syrups which are loaded with sugar and additives. Make sure that you only consume whole fruits in its natural form. Lean towards the natural produce aisle in the grocery store when doing your groceries. Majority of the fruits in this section are low in glycemic load.
If you strictly follow a healthy diet and only consume whole natural fruits, this will help you keep a healthy blood sugar range and reduce your risk of developing diabetic complications such as diabetic retinopathy, glaucoma, cataracts, kidney disease and other deadly heart diseases like stroke and the like.
So when you are craving for something sweet, look for any of the following sweet yet healthy fruits made specially for you by mother nature - toss one into the blender and make a diabetes-friendly smoothie or toss a couple in your bag to serve as snacks in between your busy schedule.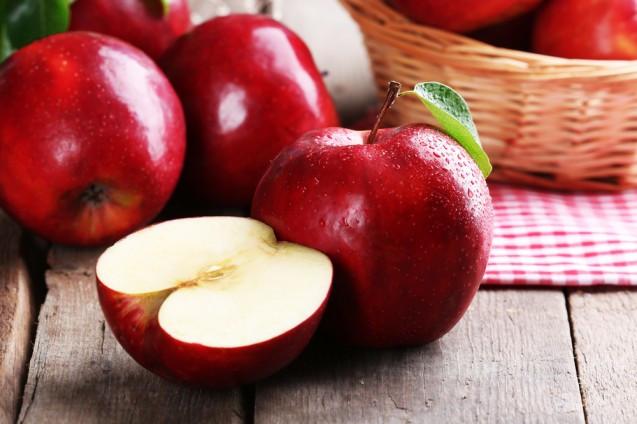 The good old saying "An apple a day keeps the doctor away" is true. Apples are rich in fiber and is loaded with Vitamin C. A small apple contains 77 calories and 21 grams of carbs. Remember to not peel your apples because the skin is actually the most nutritious part of the fruit – it's loaded with healthy antioxidants. Bring along a small-sized apple to munch during the day when you're on the go.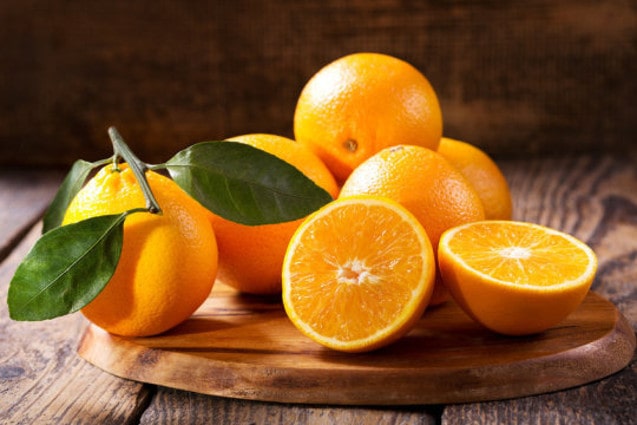 Everything they say about how rich oranges are in Vitamin C is true! Eating one single orange provides 100% of your Vitamin C daily requirement. One is all you need in day, really. One orange only has 62 calories and 15 grams of carbs. Oranges may also help normalize your blood pressure due to its Folate and Potassium content. Eat one as is for a healthy snack or juice it for a diabetes-friendly drink. Other citrus fruits such as grapefruits are good choices as well.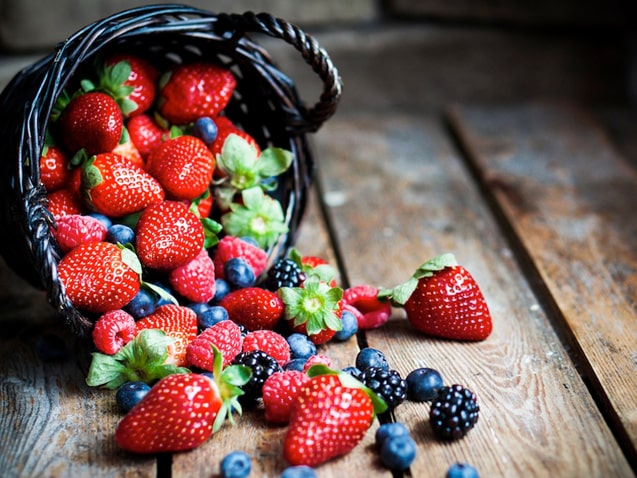 According to the ADA, berries are considered as diabetes superfoods. Berries such as blueberries and strawberries are jampacked with Antioxidants (helps to combat the onset of disease), Vitamins and Fiber. Not only that, they are also low-GI. So, when you want to indulge on berries, do so by all means, you have the green light!
A cup of blueberries only has 62 calories and 16 grams of carbs. You can also try something different than eating them alone, like making a parfait with non-fat yogurt. This is a great diabetes-friendly breakfast or dessert.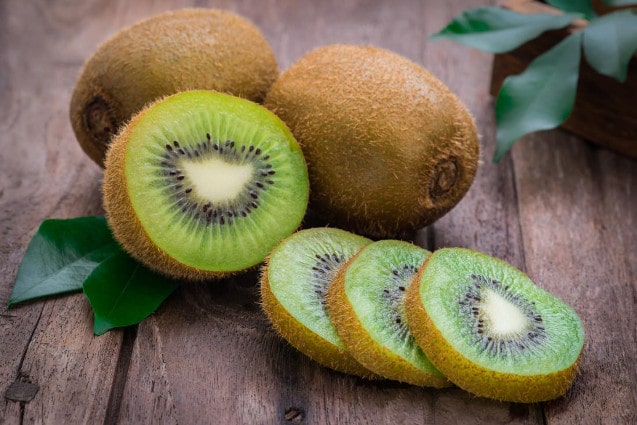 Don't judge a book by its cover. This is very true when looking at these weird brown furry balls because what's inside is a delicious, sweet and juicy fruit meat that's loaded with potassium, Vitamin C and Fiber. One kiwi has 56 calories and 13 grams of carbs which makes it a very wise choice to add into your diabetes-friendly diet. What's good about kiwi, unlike other fruits that only appear in the market on certain seasons, is that it's available the whole year round and will actually last in your fridge up to three long weeks!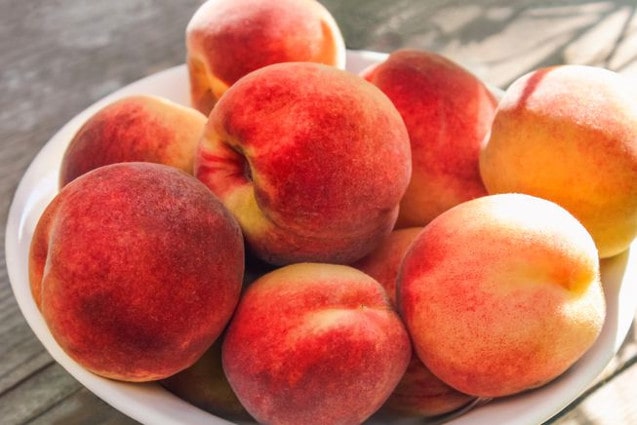 We all know that peaches give us comfort during the warm season for their refreshing flavors, but it can also be mixed into your diabetes-friendly meal plan. Peaches are loaded with Vitamin A, Potassium, Vitamin C and fiber.
Easily whip a peach smoothie with non-fat milk, crushed ice and a dash of cinnamon and you have an instant diabetes-friendly snack.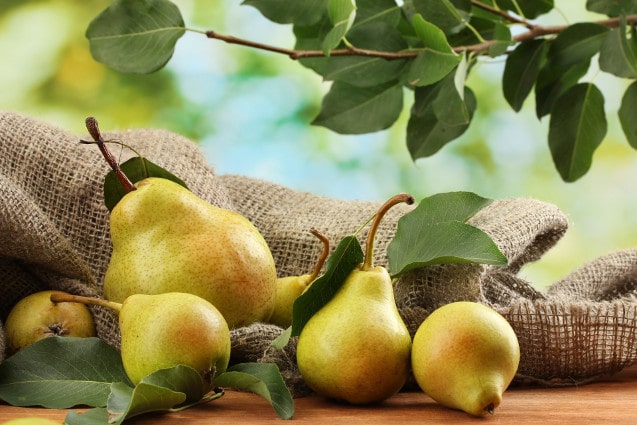 Pears are one of the best additions to your diabetes-friendly diet regimen because they are loaded with Vitamin K and Fiber. And unlike any other fruit, they're texture and flavor actually improve after they're picked. Amazing, right? Pears are good in salad. Slice up a pear and put it into your next garden salad for additional Fiber, and of course, flavor.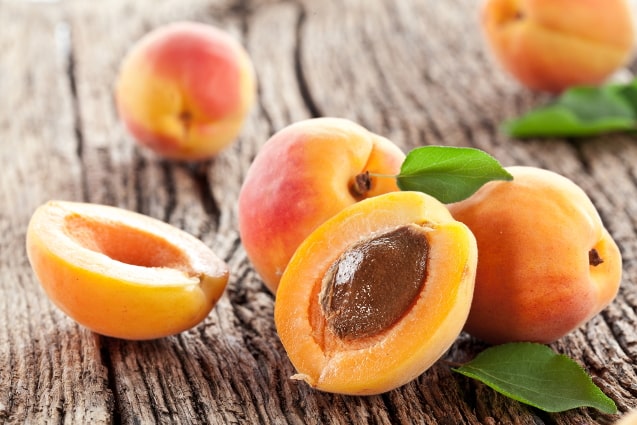 Considered as a sweet staple during the summer, apricots are a good addition to your diabetes-friendly diet regimen. One fruit contains 17 calories and only 4 grams of carbs. Did you know that four apricots provide 50 percent of your Vitamin A requirement daily? That's how healthy these fruity jewels are! They are also a good source of fiber. Dice them up and toss into your breakfast cereal or in a salad.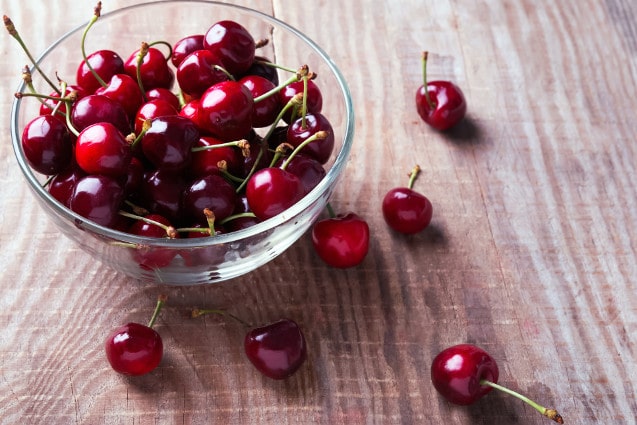 Tart cherries are among the healthy fruits that are low-GI and a wise choice to add in your diabetes-friendly diet regimen. One third to a cup of tart cherries has 78 calories and 19 grams of carbs. Studies show that tart cherries are good at fighting inflammation. They contain Antioxidants that fight certain cancers and heart disease among others.
Read More about the causes, effects, and solutions for high blood sugar.