Have Gut Problems? These 7 Weird Side Effects Can Happen To You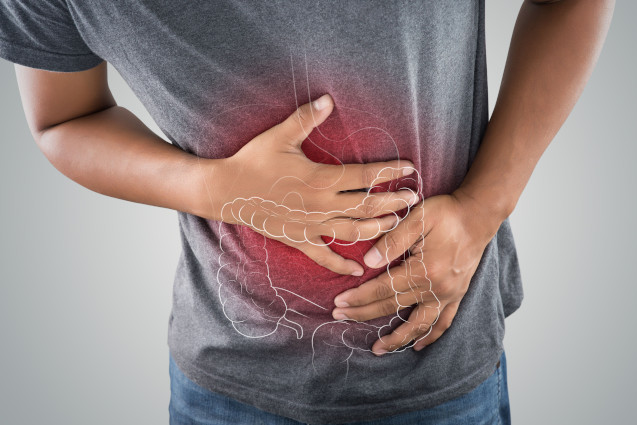 Your stomach is much more complex than you think. It houses billions of microorganisms that can affect your overall health. Before you freak out, it's completely normal to have them in your body. An individual can have 300 to 500 species of bacteria in his guts. Some are beneficial and necessary to stay healthy, while others can be harmful to the body.
Your gut health is linked to your immune system, endocrine system, skin, weight, mental health, mood, and even cancer development. This is why it's very important to keep your gut microbiome healthy.
Some symptoms can tell you if you have gut problems, and they can be weird. Monitor your gut health by watching out for these side effects:
1. Bad breath
Poor oral health and some foods can cause bad breath. But aside from those, there are microbes in your gut that can also cause unpleasant mouth odors. One example is Helicobacter pylori. It is a bacterium linked to halitosis or chronic bad breath and can cause gastritis.2 If you have an H. Pylori infection, you may experience the following symptoms:3
Burning or aching sensation in the abdomen
Unintended weight loss
Frequent burping
2. Sugar-cravings
Did you know that your gut microbiome can communicate with your brain? That's why you may tend to crave sugar and other sweet foods.4 This happens when you have pesky fungi or yeast that needs sugar to survive. An imbalanced gut flora may invite these harmful microbes.
3. Insomnia
Your sleep issues may also be caused by your gut problems. Your microbiome is linked to your circadian rhythms, which play a role in regulating your sleeping patterns.5 When your gut microbes are inflamed, your circadian rhythms may mess up and cause difficulty in snoozing and getting good sleep.6
4. Mental health issues
Your mental health can also be affected by your gut problems. Because your microbiome and nervous system can interact, unhealthy gut flora can cause anxiety or depression.
5. Weak immune system
If you have healthy bacteria in your gut, you have a stronger immune system that can protect you from disease-causing foreign invaders. However, if your gut is imbalanced, you may be more vulnerable to diseases. Research shows that certain gut bacteria can help prevent the risks of cancers and heart disease.7
6. Skin issues
A healthy-looking and glowing skin also require a healthy gut. When you have gut problems, your skin is usually the first one that shows the signs. An imbalance in your gut flora can activate the body's inflammatory response which may lead to acne breakouts, eczema, and psoriasis.8
7. Auto-Brewery Syndrome
Yes, your gut can brew its own beer if you have a gut fermentation syndrome. This can make you drunk even without ingesting alcohol. That's because of the endogenous gut microbiota that can ferment carbohydrates into ethanol. A patient has actually experienced this.1 It was believed that taking antibiotics for a long time caused the alteration in his microbiome which allowed yeast to form. To treat him, he took probiotics and had a short-term no carb-diet.
How to improve gut health
Your gut microbiome can be damaged by high-stress levels, too little sleep, eating processed foods, and taking antibiotics. To keep it healthy, these are the things you can do.
Take a prebiotic or probiotic
Taking prebiotic and probiotic supplements can significantly improve your gut health. Probiotics are live good bacteria, while prebiotics provides food, which promotes the growth of good bacteria in your stomach. Taking prebiotic and probiotic supplements can also improve skin conditions.9
However, take note that people with bacterial overgrowth must not take probiotics. Not all of these supplements can be beneficial for you. It's best to consult with your doctor first to ensure the best health benefit.
Lower stress levels
Your anxiety and stress levels can also affect your gut. Practice meditation, socialization, yoga, and other relaxing activities to reduce stress.
Get enough sleep
Sufficient sleep can help keep your gut healthy. It's recommended to get at least 8 hours of undisturbed sleep every night to prevent gut problems. As mentioned earlier, imbalanced gut flora can lead to more sleep issues.
Change your diet
Try to limit high-fat and high-sugar foods. Opt for plant-based meals and lean protein for a healthier gut microbiome. A fiber-rich diet can also contribute to a healthy stomach. Start with garlic, onion, fermented food, and collagen-boosting meals.
Stay hydrated
Drink enough water every day to promote a healthy gut. Studies say that drinking plenty of water has a good effect on the mucosal lining of the intestines and in balancing good bacteria in your gut.
Don't take antibiotics without your doctor's instruction
Taking unnecessary antibiotics can cause an imbalance in your gut flora. It can deplete the good gut bacteria in your stomach. Make sure that you're only taking it when you really need them. You may also take probiotic supplements while taking antibiotics.