If you have high cholesterol and find yourself occasionally going a bit nuts with worry over health risks like stroke and heart disease, the solution is simple:
Go nuts! Really!
Now, just to be perfectly clear, I'm not talking about skiing downhill dressed as a giant hotdog or mountain biking on a unicycle or anything like that (as entertainingly "nuts" as those activities may sound).
I'm talking about the kind of nuts you eat.
Whether you love almonds, pistachios, walnuts or eating peanuts from the shell, all nuts offer heart-healthy benefits when combined with a sensible overall diet.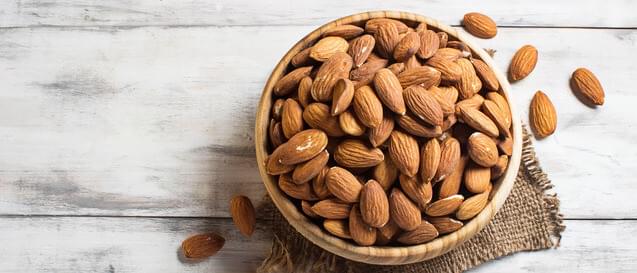 Almonds Help Lower Cholesterol and Body Fat
Adding almonds to your diet lowers your LDL cholesterol, or bad cholesterol, which is involved in creating plaques in your coronary arteries that can cause heart attacks. Almonds lower LDL in a dose-dependent manner. This means that by increasing the amount of almonds you eat, you can further lower your LDL. Clinical diet studies show almonds can also reduce your risk of insulin resistance and diabetes. Even if you have diabetes, adding almonds to your diet can improve your sensitivity to insulin.
Almonds can also increase your likelihood of losing weight. In one study, adding 84gm, or about 3 ounces (oz) of almonds a day to a planned diet improved weight loss and resulted in a 14 percent decrease in waist circumference. A study published in 2015 looked at cholesterol and body fat in people who ate 1.5oz of almonds a day versus a healthy muffin with similar calories. In only six weeks, people who consumed almonds had lower LDL cholesterol by an average of 5mg/dL. They also had less belly fat and leg fat.
There are also several studies showing eating almonds lowers body inflammation.
If you are looking to shrink your waist and improve your cholesterol, start by adding some almonds to your diet.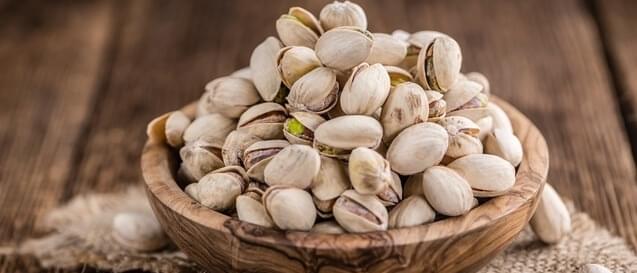 Pistachios Help Lower Blood Pressure Under Stress
Adding pistachios to your diet also has potential heart benefits. Our body and heart responds adversely to stress and often respond to it with increased blood pressure. A study of people who ate approximately 1.5oz of pistachios a day and were then exposed to mental stress found they had lower blood pressure rises than those who did not eat pistachios.
In people with diabetes, eating pistachios lowers total LDL cholesterol and can reduce the risk of diabetes-related disease in the arteries. In a four-week trial published in 2014 of patients who had diabetes, a diet rich in pistachios (about 6 to 10gm/day) improved heart rate response to stress, 24-hour blood pressure measurements, and heart function and output. Total cholesterol also decreased for those who ate pistachios.
If you are looking to lower your blood pressure, improve your response to stress, and lower your cholesterol, consider adding pistachios to your diet.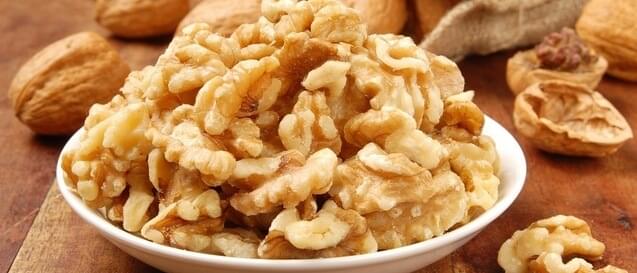 Walnuts Help Keep Arteries Clear
Most nuts contain a high concentration of healthy fat. Walnuts are composed of 47 percent polyunsaturated fatty acids, thought of as "good fats." But while most nuts contain polyunsaturated fatty acids, walnuts are the only ones with a significant amount of a certain type called alpha-linoleic acid. Alpha-linoleic acid acts as an anti-inflammatory agent and has actually been shown to help reduce plaque buildup in coronary arteries.
Eating walnuts has been shown to improve cholesterol levels and the function of the small arteries and vessels within our bodies. Recently, a study looking at people who consumed 43gm of walnuts every day found the nuts reduced total and LDL cholesterol levels. However, this study showed something even more important, in my view. Consumption of walnuts reduced the level of apolipoprotein B, which is a strong genetic risk factor for coronary artery disease.
If you are at high risk for coronary artery disease (CAD) or already have it, consider adding walnuts to your diet.
The Truth About Peanuts
Many studies show eating peanuts, including peanut butter, can reduce heart risk. In the Nurse's Health Study, those women who consumed peanuts and peanut butter lowered their risk of heart disease by 34 percent. The greatest benefit was in those who ate peanuts multiple times a week. In a study of 6,309 women with diabetes, eating one serving of peanuts (28gm [1oz] of nuts and 16gm [1 tablespoon] of peanut butter) five times a week or more lowered risk of heart disease by 44 percent.
Eating peanuts and peanut butter has also been shown to lower risk of diabetes in both lean and overweight women. Finally, like many other nuts, peanuts as an alternative food source for your protein needs can lower your cholesterol, particularly when added to other healthy diet choices.
In a 'nutshell'.....
Nuts are a nutrient-dense food that is loaded with protein, vitamins and minerals. They help lower cholesterol, and reduce the risk of heart disease and hypertension because they're loaded with healthy unsaturated fats.
Unlike the cholesterol-causing saturated fats (found in animal-based foods) and trans-fats (artificial fats found in packaged and convenience foods), unsaturated fats help lower LDL cholesterol (or, "bad" cholesterol) while leaving "good" cholesterol (HDL) levels the same.
According to recent studies, daily nut consumption not only lowers your risk of heart disease by as much as 30% but also reduces your risk of cancer.
The key to making nuts work for your heart and overall health is to avoid nuts that have been cooked in oils or coated in sugar, which can cancel out the heart-health benefits and cause weight gain. Also, avoid salted nuts, which can cause high blood pressure.