Top 10 Common Household Toxins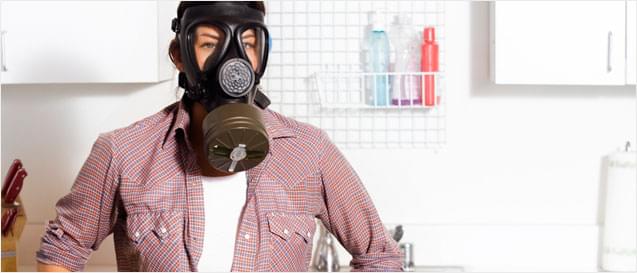 Greetings. It's Matt with 10 easy-to-implement recommendations to help protect you and your family against 10 nasty dangers you're probably not aware of.
Did you know that a recent biomonitoring survey by the Centers for Disease Control and Prevention (CDC) found traces of 212 environmental chemicals in the average American, including toxic metals like arsenic and cadmium, pesticides, flame retardants and even perchlorate—an ingredient in rocket fuel! With so many scary-sounding, potentially toxic compounds turning up in our household products, it's hard to know which agents are really worth worrying about. Here is a guide to some of the most commonly found toxins, the latest information from animal- and early-stage human studies and what all that means for your family and your home.
BPA is a chemical used in plastic production, and found in things like water bottles, baby bottles, plastic wraps and food packaging.
Health Hazards: The U.S. government's National Toxicology Program has concluded that there is some concern about brain and behavioral effects on fetuses and young children at current exposure levels.
What You Should Know: Switch to glass products when possible.
Oxybenzone is a chemical used in cosmetics, and found in products like sunscreen, lip balm and moisturizers.
Health Hazards: Linked to hormone disruption and low-birthweight babies.
What You Should Know: About 97% of Americans are contaminated with oxybenzone, but current exposure levels have been deemed safe.
Found in toothpaste and tap water, fluoride is a form of the basic element fluorine.
Health Hazards: Neurotoxic and potentially tumorigenic if swallowed; the American Dental Association advises that children under 2 should not use fluoride toothpaste.
What You Should Know: Government studies support current fluoride levels in tap water, but studies on long-term exposure and cancers are ongoing.
Parabens are synthetic preservatives found in moisturizers, haircare products and shaving products.
Health Hazards: Hormone disruptions and cancer in animals.
What You Should Know: The FDA has deemed current levels in cosmetics safe, but paraben-free products are available.
Phthalates are chemicals used to give plastic its resiliency and flexibility, and is found in all kinds of products, from toys, raincoats and shower curtains to vinyl flooring, detergents and food packaging.
Health Hazards: Animal studies show reduced sperm counts and reproductive abnormalities, and there's evidence of a link between phthalates and liver cancer in humans.
What You Should Know: In 2008, the U.S. Congress passed legislation to ban six phthalates from toys and cosmetics.
BHA is an additive that preserves fats and oils in food and cosmetics, and is found in chewing gum, snack foods and diaper creams.
Health Hazards: May promote cancer, according to lab studies on animals.
What You Should Know: BHA is hard to avoid in foods, but the U.S. government limits its levels.
PFOAs are a component of Teflon, the best-known brand name of a synthetic fluoropolymer formula commonly used widely as a non-stick coating for fry pans and cooking pots, but PFOAs are also found in tap water. In 2015, EPA began regulatory action to limit or prohibit manufacturers from using PFOAs.
Health Hazards: PFOAs have been found to cause hormone disruption and reproductive abnormalities in animal and human studies.
What You Should Know: Avoid heating Teflon-coated cookware to high temperatures. This can release toxic fumes.
Perchlorates are used to make rocket fuel—and they're found in drinking water, the soil and some vegetables.
Health Hazards: Perchlorates have a negative effect on the thyroid gland and hormone production.
What You Should Know: Environmental groups are urging the U.S. government to lower perchlorate levels in drinking water.
DBDE is a flame retardant found in electronics, furniture and carpeting.
Health Hazards: Permanent learning and memory deficits, hearing defects and decreased sperm count.
What You Should Know: In 2009, the EPA announced the decaBDE Phase-Out Initiative to eliminate the production, importation and sale of decaBDE by 2013.
Asbestos is a mixture of six naturally occurring silicate minerals, and is found in housing insulation, drywall, artificial fireplace logs and toys.
Health Hazard: Lung cancer and mesothelioma (an aggressive cancer affecting internal organs).
What You Should Know: Asbestos in products is not always labeled, and while most manufacturers have abandoned it or reduced its levels, asbestos is still not banned by the U.S. government.
Chemicals in plastics and other products seem harmless, but mounting evidence links them to a wide range of health problems.
In today's chemical-laden world, it's getting harder and harder to avoid all toxic risk, but would you like to learn 3 simple tricks that will rid your body of toxins, heal existing damage, boost your immune system and skyrocket your energy levels?
These 3 tricks have been shown to eliminate toxins up to 15 times more effectively by using a quick-cleansing solution just twice daily. And get this…
These 3 simple tricks take less than 1 minute to perform.
We show you exactly how to do it HERE:
==> Do THIS Twice Daily to Eliminate Toxins From Your Body (Takes Less Than 1 minute)
And don't forget—sweat is magic! Work up a good sweat every day to make your health and fitness wishes come true,