Top 8 Reasons To Use Lemon Water + Salt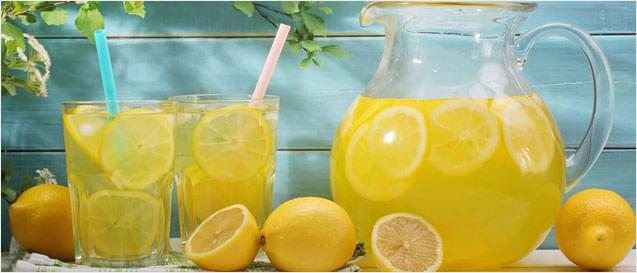 I'm the Senior Nutritionist at Healthy Habits and I'm thrilled to be meeting you.
Today I want to give you my Top 8 Reasons why lemon water + salt can be such an important (but simple) part of your daily routine.
Your health and energy levels for the day largely depend on what you eat in the morning. A glass of warm lemon water with salt can serve as your morning routine trigger – while also giving you a healthy, energetic and refreshing leg up on your day.
Recipe: 1 half a lemon squeezed into 16 ounces of room temperature (or warm) purified water. Never use tap, and never use cold water. (Cold water actually slows digestion).Add a ¼ teaspoon of unrefined, untreated sea salt and stir until dissolved.
(Our personal favorite is Pink Himalayan salt which you can get from Amazon for about $10 here )
Health Benefits of this delicious and easy to make drink...
After waking in the morning, cortisol typically spikes by about 50% in the body.
Cortisol can be detrimental to almost all of the body's processes and can have serious consequences such as heart disease, obesity, depression, and interference with cognitive abilities such as memory and learning.
Salt is known to reduce cortisol and adrenaline, two dangerous stress hormones.
Additionally; the Vitamin C in lemon is a natural stress reducer.
Daily consumption treats indigestion issues like bloating, belching, heartburn, etc.
It treats constipation by helping in waste elimination.
Many digestive disorders take place because of poor pH level. Lemon water helps restore pH level and aids digestion.
It has anti-bacterial and anti-viral properties which fight harmful bacteria, fungus, and viruses that cause diseases and infections.
Its antioxidant property also help eliminate toxins from the body.
Its anti-bacterial property eliminates mouth bacteria which is responsible for causing bad breath.
It soothes toothaches and many oral diseases like gingivitis.
It also helps in teeth whitening as lemon is a natural bleaching agent.
It prevents urinary tract infections. Being a natural diuretic, it increases urination and hence, eliminates bacteria which causes urinary tract infections. It is effective in the prevention and treatment of kidney stones as it contains citric acid, which naturally breaks down kidney stones.
It is an effective way to restore your body's pH levels. A pH level above 7.0 is alkaline and below 7.0 is acidic. Lemon is acidic, but when it goes inside our body, it turns alkaline and salt is alkaline in nature. Your body should be more alkaline than acidic. Maintenance of pH balance is important as poor pH balance can cause health issues like digestive problems, skin diseases, osteoporosis, arthritis etc. Proper pH balance helps in nutrient absorption, digestion, toxin elimination, etc.
Our body needs minerals for overall health. It cannot produce these minerals on its own so these have to be supplied to our body through food or supplements. Proper absorption of minerals is necessary for performing important functions like maintenance of pH balance and healthy nervous system, acting as a co-factor for enzyme reactions, formation of bones and teeth, metabolic stimulation etc. Lemon water with salt helps your body to more readily absorb these vital minerals and nutrients.
It helps cleanse your system by removing unwanted toxins that otherwise accumulate in your body. The result is visible in the form of reduced weight, glowing skin and better digestion.
Wishing you good health through wise nutrition,